---
LEGAL ALERT: Courts refuse to stay decision as to vaccine mandates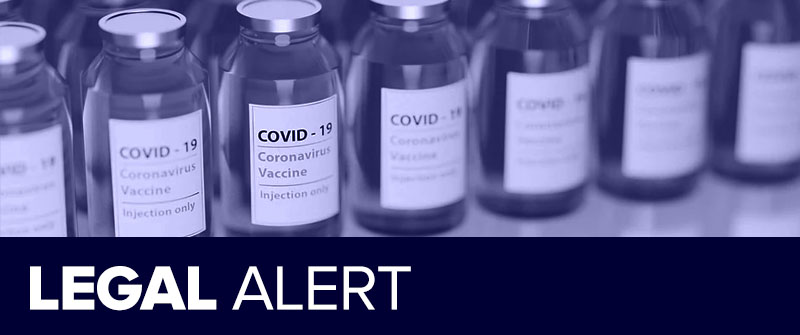 The Fair Work Commission and Federal Court of Australia have both refused to give an order to block a vaccine mandate while proceedings surrounding the lawfulness of the mandate take place, in two different proceedings currently underway.
CFMMEU v Mt Arther Coal Pty Ltd T/A Mr Arthur Coal
Last month, BHP announced that all workers at their Mt Arthur coal mine would have to be fully vaccinated against COVID-19 by 31 January 2022, with their first dose required by 10 November 2021. Without proof of at least one dose of an approved vaccine by midnight on the 9th November, employees would be barred from accessing the site and stood down without pay.
The Construction, Forestry, Maritime, Mining and Energy Union (CFMMEU) have challenged this in the Commission arguing that the mandate:
Is not a reasonable and lawful direction; and
Has been directed without proper consultation with the workforce before implementation.
A hearing of the merits of the challenge has been listed for 24 November 2021 but ahead of this, the CMFEU sought a 'stay' of the mandate from coming into force, so that unvaccinated employees would not be stood down without pay while the proceedings were determined.
However, in a decision handed down on 9 November 2021, Saunders DP refused to grant an order to stay the mandate coming into force.  This arose from the Commission's concern that by granting interim orders blocking the mandate some employees attending the mine would not have received their first dose of vaccine, and this would create a work health and safety risk for employees and visitors. In other words, the work health and safety risk caused by making an order outweighed the inconveniences that would be encountered if he did not make the order.
The Mt Arthur mandate is part of a national campaign by BHP to have all workers and visitors to their work sites fully vaccinated by 31 January 2022.
Shaun Cox v DP World Brisbane Limited
In a similar case in the Federal Court, wharf employees of DP World Brisbane are challenging the company vaccine mandate, after ten Brisbane employees were sent 'show cause' letters asking why their employment should not be terminated for refusing to be vaccinated.
The employees applied to the Court for interim orders for the workers to continue to be paid wages while proceedings were underway, arguing that without pay, this would be in breach of the Fair Work Act, adverse action, and a breach of employment contracts.
The application was dismissed, though the Judge ordered DP World comply with an undertaking not to terminate any employees for being unvaccinated before 31 December 2021.
In his reasons, Justice Logan reiterated the employer had a common law duty to provide safe systems of work and was also required to do so in compliance with enterprise agreement and state OHS laws, and was entitled to draw on its experience from its sites in other states. A hearing has been set for December 2021.
The final decisions in these two cases will have significant consequences for framing COVID-19 responses by many employers noting each State has its own vaccination requirements and directives, but with many industries and employers having to navigate for themselves complex areas of law (see our previous alert on South Australia's mandates here).
EMA Legal can assist employers with any enquiries related to vaccine mandates.
This Newsletter is made available to our clients and interested parties to provide immediate access to information about important changes and developments relevant to employers. The information contained in this publication should not be relied on as legal advice and should not be treated as a substitute for detailed advice that takes into account particular situations and the particular circumstances of your business.