---
LEGAL ALERT: Gig worker held to be an employee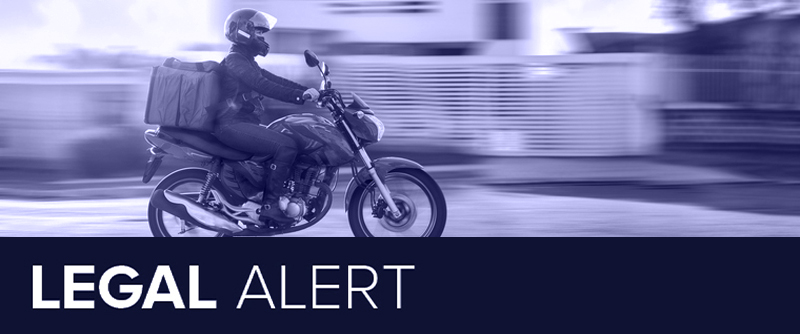 In an important recent ruling, a single Commissioner of the Fair Work Commission has found that a delivery rider engaged by Deliveroo was an employee in an unfair dismissal brought by the former delivery rider (Diego Franco v Deliveroo Australia Pty Ltd [2021] FWC 2818).
Mr Franco worked for Deliveroo for three years, until he was sent an email saying Deliveroo would terminate his "supplier agreement" within a week as a result of his slow deliveries. Mr Franco lodged an unfair dismissal claim, claiming that he had not been previously warned by Deliveroo and that he was not given a chance to respond to the allegations.
To determine whether Mr Franco was protected from unfair dismissal, the Commission first had to decide whether he was an employee or contractor, which so far remains a hotly contested issue in the gig worker industry. Commissioner Cambridge stated that the terms of Deliveroo's supply/supplier agreement "clearly attempt to establish a relationship of principal and independent contractor", and in some instances the contract goes to "considerable lengths" to emphasise that the relationship is one of principal/contractor as opposed to employer/employee.
However, the Commissioner found that the riders had "no capacity to negotiate any of the terms" in the agreement. One of the key factors in determining the true nature of the relationship is the level of control the principal has over the worker. The Commissioner ultimately ruled that the correct characterisation of the relationship between Mr Franco and Deliveroo was in fact employer and employee.
After finding that Mr Franco was an employee, the Commissioner labelled Deliveroo's approach to the termination process as "perfunctory" and "callous", which he attributed to the lack of protections given to independent contractors. The Commissioner held that a slow delivery time was not a valid reason for dismissal as it was never made clear to Mr Franco what his expected delivery times were. Further, the procedure by which Mr Franco was dismissed – by email and without prior warning – was unjust, unreasonable and harsh, with the Commissioner stating that it was "plainly unconscionable to terminate what would be well understood to be his primary source of income, without first hearing from him."
The Commissioner ordered Deliveroo reinstate Mr Franco. Unsurprisingly, Deliveroo has indicated that it will appeal the decision.
EMA Legal can assist employers with any queries related to the characterisation of employment relationships.
---
This Newsletter is made available to our clients and interested parties to provide immediate access to information about important changes and developments relevant to employers. The information contained in this publication should not be relied on as legal advice and should not be treated as a substitute for detailed advice that takes into account particular situations and the particular circumstances of your business.